Integrative Massage


Various Swedish/relaxation & therapeutic techniques are incorporated
to deliver a unique, restoring and rejuvenating experience.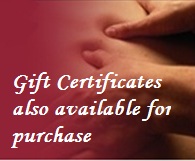 30 Minutes $40




60 Minutes

$70




90 Minutes $90
Moisture-Intensigrative Massage




All-natural massage oils are infused with Shea Butter, Jojoba and
vitamins for a super-hydrating experience (includes a special foot treat).
Please specify Citrus-Lavender, Peppermint-Eucalyptus or
Season-Special Aroma.
30 Minutes $55
60 Minutes $80
90 Minues $95
Couples

Swedish/Therapeutic




The Integrative Massage service for you both, provided in separate
treatment rooms. NOTE: This option is not available for online booking
(please call or email for appointment availability).

60 Minutes $130
Deep Tissue Massage




Specific techniques are used to loosen deeper muscle tissues.



60 Minutes $80
90 Minutes $100
Hot Stone Massage




Heat therapy from polished basalt lava stones are incorporated into this
massage session for a deeper relaxation experience.
60 Minutes $80
90 Minutes $100
In-home (mobile) Massage


Let me come to you with the Swedish/Therapeutic or Deep Tissue services,
so you can remain relaxed within the comforts of your own haven
(please call or email for appointment availability).

30 Minutes $45
60 Minutes $70 - $85
90 Minutes $90 - $105
Corporate/Workplace Massage
Condensed sessions are provided on-site for the Employer's workplace to
revive staff during their work-day.
Various package proposals provided upon request (via Contact Page)
Rejuvenated Stride (Feet Reflexology)




Various techniques and pressure-point massage are applied to the feet to
enhance internal organ and body health (includes a relaxing foot soak).
30 Minutes $40

Body Services Schedule Appointment

Aroma-Drop Therapy


From Young Living's Raindrop technique, several essential oils are used
along the spine and bottoms of feet to balance and realign the body
systems. This service is effective for stress-management, immune and
respiratory system support and inflammatory response (includes a
relaxing foot soak).
added to any Massage service $30
without Massage (30-minutes) $50

Renewing Body Treatment


This service includes an all natural skin-polishing mixture with 3-step
exfoliation process. Enriched with essential oils, vitamins, minerals and
emollients that will renew, smooth and reveal new and glowing skin.
without Massage (45-minutes) $80
with Massage (90-minutes) $115
Please visit this growing Services Menu again soon!